LESSON FOUR
The Practice of Human Transfiguration
& The Technique of Untransfiguration
---
"They had just embarked upon
the immensely difficult topic of
human Transfiguration;
working in front of mirrors,
they were supposed to be changing
the colour of their own eyebrows."
---
Welcome, welcome. Please, be seated. Today, we have a double period again, for we have quite a bit to cover. Now, before I actually do let you sit in front of mirrors and inevitably hurt yourselves, we shall try to cover a few basic facts on today's first period's topic; Human Transfiguration.


As always, we need to know what we are dealing with before actually encountering it, especially when it comes to magic this dangerous and this advanced. Just like regular Transformation, of which Human Transfiguration is a branch, Human Transfiguration focuses on altering matter on different levels. This time, the matter of Transformation itself is a human or human body part or parts. Human Transfiguration, next to Untransfiguration, is the most complex branch of Transfiguration and therefore is considered a N.E.W.T. level skill.


We can divide it into two main categories, which are Wandless Human Transfiguration and simply Human Transfiguration. Let us first see what Wandless Human Transfiguration is all about.


Wandless Human Transfiguration is the ability of a person to change shape and form without using a wand, whether it is voluntarily or not. First of all, there are Metamorphmagi [ - plural; Metamorphmagus - singular], the people who were born with the ability to change their appearance at will. Those people are extremely rare and usually excel when it comes to Transfiguration in general. Metamorphmagi can take a whole variety of forms and change sex and age, not literally, of course; it does not mean they can avoid death by appearing young.
Next in line we have Animagi [ - plural; Animagus - singular]; the people who trained and registered to be able to transform into an animal at will. One does not get born with such a skill and has to train, practise, be patient and get a licence to practise it. Animagi, unlike Metamorphmagi, who can take the form of almost anything, can only take the form of one animal which is most likely their Patronus, as well. The animal of which one takes form cannot be chosen, but depends on one's personality; it also cannot be changed unless one has undergone some serious emotional change. There is an animation of Professor McGonagall performing her skills as an Animagus in this very classroom below.
The third group is quite unique due to the fact that its people cannot transform at will. We are talking about Werewolves. Werewolves are humans who, during the full moon, transform into a wolf-like creature and lose their awareness. Since I said wolf-like, I believe it is only fair to explain how to distinguish a Werewolf from a wolf. Unlike wolves, Werewolves have a shorter snout and they keep their human eyes. They also have a tendency to attack humans rather than animals. Even though they are not aware of what they are doing or who they are in their wolf-like form, Werewolves can recall those actions whilst in human form perfectly. The Ministry of Magic classifies Werewolves as beast during their transformation, even though lycanthropy is considered an illness. Lycanthropy is spread by contact of infected saliva and blood. The illness itself cannot be cured, but it can be properly treated with a special potion called the Wolfsbane Potion, which prevents the Werewolf from losing their awareness and allows them to keep their memories while transformed. Lycanthropy cannot be transmitted by a parent to a child genetically, unless, of course, two Werewolves mated during the full moon in their wolf-like forms. That has happened only twice in history and the result of the mating has been a pack of wolf cubs, only distinguished from regular wolves by their near-human intelligence.


That would be all regarding Wandless Human Transfiguration for today. There probably are a few more things about Werewolves that you want to know, but I advise paying attention in your Care of Magical Creatures and Defence Against the Dark Arts classes. Now, the thing we are most interested in today is regular, wand-requiring Human Transfiguration. We can apply all the principles of regular Transformation to Human Transfiguration. Naturally, there are a few minor exceptions.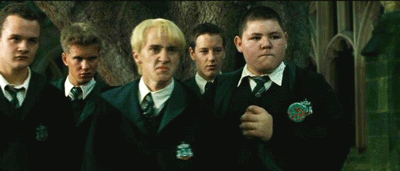 The easiest way to Transfigure a human is to alter them or one of their body parts. Now, what do I mean by that? It is easiest to tweak, change and alter simpler details, rather than Transform the whole human body into a third object or animal: for example, change hair length, hair, skin or eye colour, nose, mouth, ears, arms, hands, feet appearance and so on. A human can Transform oneself or someone else into an animal, as well, although that is extremely hard, and most wizards and witches are able to accomplish that only partially or are not able to do that at all. One can also Transform someone or oneself into a non-living object. This is the most dangerous form of Transfiguration since one cannot Untransfigure oneself and there are so many things that can go badly in the process if one does not perform the spell correctly or if the person who Untransfigures him is not skilled enough or does not know which spell or Transformation was exactly used.


Having said that, we are about to wander in the direction of the last topic of this class. Obviously, I am talking about Untransfiguration.


Untransfiguration is the exact opposite of Transfiguration. In Transfiguration, we are altering some object and changing its original appearance and state. Now, since Untransfiguration is the exact opposite, it means that the definition is reversed, as well, and we can define it as reverting any changes of an object's appearance and state to the original form, which was disfigured by Transformation. Even though it is possible to revert Transformations, that is not an option unless one knows what exactly the Transfigured object was before it was altered.


One of the most important and most responsible things is to know how to Untransfigure something after a mistake or a severe Transfiguration mishap. In the case of such a thing, one ought to use a universal spell, which is meant to counter effect any Transfiguration mistakes or mishaps and evidently revert them. The spell I am talking about is Reparifarge. I believe it is in your best interest to remember it well.
Unfortunately, this is where our class stops, at least regarding Transfiguration. The fortunate thing is that, I certainly do hope so, you will have left this classroom with more knowledge and a new experience, if nothing else. Now, off you go, you still have the exam and the fourth homework left if you wish to attempt full credit or earn the required points to pass, so make sure to study.